Posted by Carey Vigneux on 8 November 2017
Jubenville will represent Canada at the 2017 WAGC
Winstars Alexandra Jubenville, 20 of Belle River, will represent Canada at the 2017 Trampoline World Age Gymnastics Championships in Sofia, Bulgaria in early November. This will be the third time Jubenville will compete internationally. Previously, Alex competed at the Scalibus Cup in Portugal in July 2016 and at the Indo Pacific Championships in New Zealand in October 2016. http://www.gymcan.org/news/details/2017_TG_WAGC_Team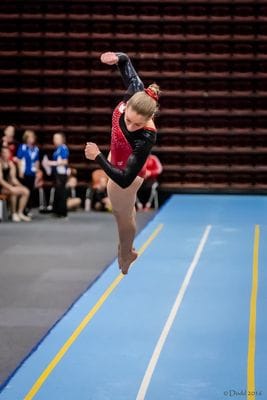 Jubenville at 2017 Indo Pacific Championships, New Zealand
World Age Group Championships
Alexandra will compete at these World Age Group Championships (WAGC) in the 17-21 year old category. This will be her last year due to her age to compete at these WAGC's. What does competing at these championships mean to Alexandra, "This is an awesome experience competing not only for Winstars but for Canada. I hope to do my best and ensure that I have given it my all. Training has been going well and I have had to train hard with more confidence." Alex has put in lots of preparation time for this WAGC and thanks Rob and Tracy for all their support and dedication.
Dedicated to her Sport!
Jubenville has been training in the sport of gymnastics, specifically tumbling, since 2009. Alexandra is coached by Rob Laudenbach and Tracy Davies. Tracy says, "Alex has been working extremely hard for this competition for the past year. Her dedication and determination have helped her be the most prepared she can be." Throughout her career Alexandra has some ups and downs. But, her coaches feel this is her time to shine at this upcoming World competition.
Many Thanks
Winstars hosted an Open Gym night recently and raised $1500 toward her personal expenses to these WAGC. Alexandra stated, "I really want to thank Winstars and my coaches for everything they have done for me. I am very thankful to all those people who have supported my vision to compete at a World competition."
#winstarsrocks #sofia #bulgaria #wagc2017 #tumbling